Singapore: The last time China's President Xi Jinping travelled overseas, Donald Trump had yet to face his impeachment trial, bushfires were still burning down the east coast of Australia and the Wuhan City government was hosting a banquet for 40,000 families.
It was January 18, 2020. Xi had flown to Myanmar to meet with now-deposed President U Win Myint. More than 60 cases of COVID-19 had been confirmed that day in Wuhan, but the coronavirus was not yet on the agenda. In Naypyidaw, Xi wanted to talk to Myint about speeding up "the alignment of the Belt and Road Initiative and Myanmar's development strategies".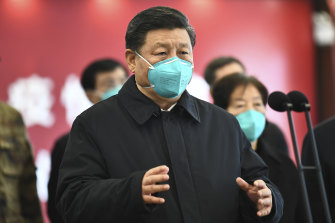 The virus that would go on to kill 4.8 million worldwide was not mentioned in the readout from the meeting. Within five days Xi would return home to seal off the city of Wuhan. It was the first sign of the brutal and effective methods China would use to deal with a pandemic, an approach that remains to this day.
Xi has not been overseas while his borders have remained closed, preferring to beam into global meetings. He gives speeches calling for unity and railing against Western exceptionalism – the mysterious aura of Xi's image floating on a big screen over the UN General Assembly or UN climate negotiations as he outlines his alternative vision for the world. Then he checks out. There are no other world leaders there to question him.
Of all the G20 leaders, Xi is the only one not to have travelled overseas since the beginning of the pandemic. The group will meet in Rome on October 30 and again at the Glasgow climate summit over the following week. Xi will once again be absent.
The Chinese leader is isolated from world leaders just as his country is from the world. Having crushed the virus in the place where it was first detected, the land of COVID-zero is now the last one standing. Wuhan was shut off for 10 weeks. China has been cut off from the rest of the world for more than 560 days and counting. China's fellow COVID-zero journeymen for much of the pandemic – Australia, New Zealand and Singapore – have now accepted they must live with the virus and are planning on gradually opening up their borders.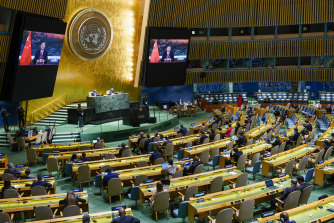 "It is the terrible combination of high attack rates and shortened incubation that makes Delta a game-changer," said Catherine Bennett, the chair of epidemiology at Deakin University. "We are now drawn into the more compelling global experiment to find a workable, ethical and economically sustainable approach to controlling disease incidence and hospitalisations."
China is still not yet ready to listen to its top infectious disease expert Zhang Wenhong. In August, Zhang suggested China needed to live with the virus and was then suddenly investigated for plagiarism by his employer, Fudan University. Instead, it is building a $350 million 5000-room quarantine centre for international arrivals, complete with three meals a day delivered by robots. The Beijing Winter Olympics, its showpiece international event in February, will take place in a bubble. Those wanting to leave will have to spend 21 days in quarantine.