"Predicting what might be the next step of Russia, the separatists or the personal decisions of the Russian president – I cannot say," Ukraine's President Volodymyr Zelensky said.
Loading
According to a draft text, which needs to be approved in parliament, the 30-day emergency could limit the freedom of movement for conscripted reserveists. It could also see media restrictions and personal document checks.
These restrictions will be in effect starting Thursday.
Ukrainian authorities have also made it mandatory for all fighting-age men to participate in military service.
The Ukrainian government and state websites were also offline Wednesday after experiencing outages in the past weeks, which Kriv blamed on cyber attacks. Ukraine's parliament, cabinet and foreign ministry websites were affected.
Moscow denies any intention to invade and has called warnings anti-Russian hypersteria. But it has taken no steps to withdraw the troops deployed along Ukraine's frontiers.
It removed flags from the embassy in Kyiv on Wednesday after it had ordered its diplomats out of safety.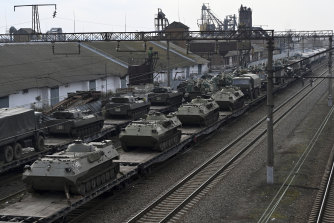 Russia is subject to sanctions
Washington has described Russia's actions as the start of an "invasion", but along with allies has so far unveiled mostly incremental sanctions, while making clear they were keeping tougher measures in reserve in case of a full-scale invasion.
Loading
European Union sanctions approved on Wednesday will add all members of Russia's lower house of parliament who voted to recognise the separatist regions in Ukraine to a blacklist, freezing their assets and banning travel.
EU leaders will also meet on Thursday for an emergency summit to discuss the next steps.
Britain announced new restrictions banning Russia from the issuing of new bonds in its security markets, and called for its broadcasting regulator to investigate Russia's RT international television news channel as a propaganda outlet.
"There will be even more tough sanctions on key oligarchs, on key organisations in Russia, limiting Russia's access to the financial markets, if there is a full-scale invasion of Ukraine," British Foreign Secretary Liz Truss said.
Fresh troops deployed
Ukraine's military said one soldier had been killed and six wounded in increased shelling by pro-Russian separatists using heavy artillery, mortar bombs and Grad rocket systems in the two breakaway areas over the previous 24 hours.
According to Maxar, a US company, satellite imagery revealed several new troop and equipment deployments in Russia, as well as more than 100 vehicles at an airfield in southern Belarus that borders Ukraine.
Russia has been presenting the crisis for months primarily as a dispute against the West. They have demanded security guarantees, including the promise that Ukraine would never join NATO.
But, recognition of separatist regions was accompanied in part by stronger language against Ukraine – including personal from Putin.
Putin used a television address to describe the Ukrainian state in a TV address Monday. He referred to centuries of history as an artificial construct that was wrongly created by Russia's enemies.
Reuters
Our foreign correspondents can send you a note directly correspondents on what's making headlines around the world. Register for the What in the World Weekly Newsletter here.