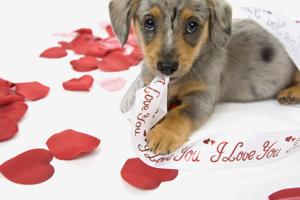 Triad events for pets
Get information, stories and more at The Pet Shop blog at www.greensboro.com/blogs. Send events to people@greensboro.com.
Valentine's Pet Adoption Special8 a.m.-5:30 p.m. Monday through Friday and 10 a.m.-4:00 p.m. Saturdays through February 19, Burlington Animal Services at 221 Stone Quarry Road Burlington. Any dog or cat can be adopted for $14 All adoption fees include spay/neuter as well as vaccinations. www.BurlingtonNC.gov/pets.
Valentine's Day Hike on Palmetto Trail:9 a.m. February 13, 2013, on Old Battleground Road just south of White Horse Drive in Greensboro. For donations to the SPCA of the Triad, bring your dog or cat food. tinyurl.com/4baxw9cr.
Sip, Savor, Shop:1-4 p.m. & 5-8 p.m., March 12, Special Events Center at Greensboro Coliseum Complex North Carolina-based products will be displayed. Project HALO, a charity that rescues and protects animals from all forms of cruelty in North Carolina, will receive a portion. $30 through February 15, $35 thereafter. Designated drivers $15 www.southernvineproductions.com.
Megan Blake Dog Training Classes 4:30 p.m. Sundays, LeBauer Park, 200 N. Davie St., Greensboro. Ask questions and discover new dog behavior. Register required. tinyurl.com/yc8wcb56.
Adoption Fair:PetSmart, 2641 Lawndale Drive in Greensboro, noon to 3 p.m. on Saturdays Triad Independent Cat Rescue. Visit www.triadcat.org, or email meowmire@yahoo.com.
Low-cost Rabies Clinic:SPCA of the Triad 3163 Hines Chapel Road Greensboro, noon-2 p.m. Third Saturday www.triadspca.org.
Virtual Adoption Fair:Third Saturday, 11 a.m.-3:00 p.m. Tailless Cat Rescue and SPCA of the Triad are the partners. Helping Hands 4 Paws is also involved. www.facebook.com/pg/taillesscatrescue/community.
Adoption Fair: noon-3 p.m. Saturdays, PetSmart, 1206 Bridford Parkway, Greensboro. Juliet's House Animal Rescue. julietshouse1@gmail.com.
Adoption of cats:Sheets Pet Clinic 809 Chimneyrock Court Greensboro. $100 for one kitten 6 months old or older, $150 for two kittens 6 months and older, and $100 for one adult cat. One kitten costs $125 and two kittens cost $200. Fees include spay/neuter, microchipping and testing for feline immune deficiency virus and feline leukemia. All adoptees receive an "exit exam" from one of the veterinarians before going home. All cats and kittens adopted from Sheets Pet Clinic are eligible for half-price vaccinations until the end of their lives, if they have been brought in for annual wellness exams. Each cat is eligible for one-month pet insurance. petadoptions@sheetspetclinic.com or www.sheetspetclinic.com.
SPCA of the TriadOpen for adoptions between 9 a.m.-4.pm on Tuesdays-Saturdays as well as noon-4.pm Sundays at 3163 Hines chapel Road, Greensboro. Send an application for adoption and wait to receive approval email. www.triadspca.org, www.facebook.com/TriadSPCA, www.instagram.com/spca_of_the_triad.